🚀Prime Asset Recovery provides Fast, Free and Secure Computer Disposal Services for your business.
FREE Computer Disposal For Your Retired & Surplus IT Equipment
FREE PICKUP, FREE DATA WIPE, FREE REPORTING
Free Computer Disposal
Want to upgrade your company's IT infrastructure but unsure what to do with the surplus of old equipment being replaced? Let us handle it for YOU!
FREE Pickup with 15 Item Minimum

FREE Hard Drive/SSD Shredding
FREE Data Sanitization with COD
FREE Asset Reporting
NO Minimum for Drop Off
FREE Computer Disposal
Provide a few details about your service requirements and receive a quick response
At Prime Asset Recovery, we understand how important it is to prevent the continued waste of valuable resources. We are committed to helping our community by providing safe and responsible computer recycling services.
We offer a variety of services to make sure that your old computers and computer components are properly recycled and reused. Our services include:
• Computer Recycling – We can take your old computers and computer components and recycle them in an environmentally conscious manner.
• Data Destruction – We can make sure that all data stored on your old computers and components is securely destroyed.
• Computer Parts Reuse – We can refurbish and reuse the components of your old computers and components, offering them at a discounted price.
• Electronics Recycling – We can take your old electronics, including printers and monitors, and recycle them in a safe and responsible manner.
We are committed to keeping our environment healthy and free of hazardous waste. Our team is certified in proper computer recycling techniques and is dedicated to making sure that all of your computer components are handled and recycled properly.
Thank you for choosing Prime Asset Recovery for your computer recycling needs. We look forward to helping!
BE PART OF OUR IMPRESSIVE TRACK RECORD
Our team of IT experts have over 15 years of experience in IT Asset Recovery & Data Center Decommissioning. We not only provide you with cash for used and unwanted equipment, we also ensure it's done securely, ethically, and quickly.
ECO-FRIENDLY IT ASSET DISPOSITION
Save money on costs while saving the planet. Safely and securely dispose your old IT equipment by enlisting us to follow regulatory guidelines on your behalf.
Simply provide us with a list of your IT assets and we can quickly provide you with a fair and accurate quote.


Pounds of e-waste Collected


WHY SELL YOUR SURPLUS EQUIPMENT TO US?
Free Pick Up (Atlanta area)

Excellent Customer Service

We Buy Servers And Storage Equipment

Data Destruction Services With Certificates Of Destruction

Owned And Operated By IT Security Experts

IT Asset Disposition (ITAD)

We Purchase Any Quantity Of Surplus Gear Large Or Small

Receive An Immediate Offer
WHAT SERVER EQUIPMENT DOES
PRIME ASSET RECOVERY BUY?
Dell, HP, IBM, SuperMicro, Cisco, Sun servers

Desktop and Server Memory DDR3/DDR4

Hard drives SATA, SAS, SSD, M.2 mSATA

Intel and AMD Desktop and Server CPUs

Enterprise Networking Equipment

Enterprise Data Storage Systems

All brands of Laptop and Desktop PCs
Tell us what equipment
you want to sell
We'll reply with an offer
within 24 hours
Quickly receive direct payment
for your equipment after pickup
To address your challenges we have developed specialized new approaches to assist you in effectively managing your technology assets and as you decommission and dispose of them. Sell Your Servers And Storage Equipment
Want an excellent cash offer on your excess servers and storage equipment?
Prime Asset Recovery will give you a quick and competitive offer for all of the server and storage equipment you're looking to get rid of! We'll guarantee your data is kept safe every step of the way and ensure the process is completely hassle-free.


What Clients Say About Us
⭐⭐⭐⭐⭐
I am extremely pleased with their services. Will be working with Prime Asset Recovery in the future too.

⭐⭐⭐⭐⭐
Needed emergency help, and Prime Asset Recovery came to my rescue. I would recommend them.
⭐⭐⭐⭐⭐
Just Wanted to thank you very much for all you have done. Excellent services with unwatchable professionalism.
Download your Decommissioning Guide today and get started!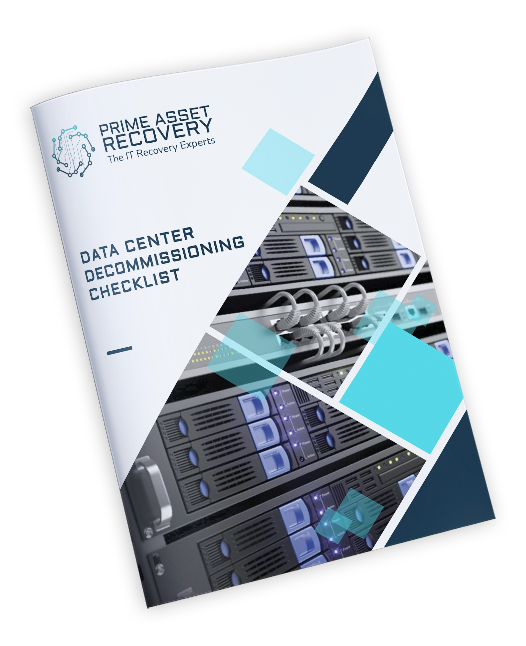 Data Center Decommissioning Checklist: This 12-step process will help your organization plan, implement, and execute a seamless server decommissioning plan.
Data Center Decommissioning Checklist: This 12-step process will help your organization plan, implement, and execute a seamless IT Infrastructure decommissioning plan.